Tisztelt Páciensünk!
Szeretnénk felhívni pácienseink figyelmét, hogy a lefoglalt időpont előtti 24 órában lemondott kezelésekért a lemondott kezelés árának 50%-át felárként számoljuk fel a következő alkalommal.
Megértésüket köszönjük.
Időpontegyeztés az alábbi felületen ONLINE, vagy a +36-30-303-5428-as telefonszámon lehetséges!
Choose one of the appointment times of Dr. Olvasztó Pálma
---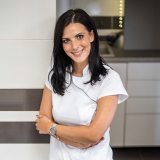 On this week all appointment times are booked.
Looking for the next free appointment...